Special Events
---
Our goal for the River Valley Lodge and Campground is to provide a quality camping experience for you and your horse. For some, that means peace and quiet. For others, that includes organized events and the potential for a large gathering of horsemen, horsewomen, and horses.
This Special Events page will highlight an organized event open to anyone who would care to participate.
We hope to provide opportunities for everyone to enjoy, either quiet or a busy day of activities. You make the choice. 
We want Happy Campers and Happy Horses!
---
BOOKING NOW FOR ALL THE FOLLOWING 2019 EVENTS
---
JUST A REMINDER...if you have already made 2019 reservations in 2018 please confirm these reservations just to be on the safe side. Call Carolyn at 319.878.3888.
---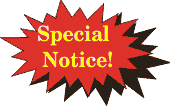 Just a reminder that you should never assume that the cabins are all taken...give Carolyn a call at 319.878.3888 and find out for sure. Yes, they are usually booked but cancellations do happen so you might well get lucky.

---
---
Sept. 4th - 7th - Tri State Rodeo and Miss Rodeo Iowa Pageant at Ft. Madison. River Valley is a quiet camping location only 25 miles away.
---
Sept. 12th - Boot Camp Horsemanship 101 - Thursday afternoon we'll meet at the indoor arena, where there will be a tack review, saddle fitting and bit demonstration. We will work on improving our communication with our horse with ground work and balance. For details call Sheri Dill-Billings at 641.919.4021. Limited space available.
---
Sept. 13th - 15th - An instructional retreat called "Let's Paint the Trails". A women's all inclusive trail riding and instructional painting weekend. For details call Sheri Dill-Billings at 641.919.4021.
---
Sept. 20th - 22nd - Mule Festival at Kahoka, Missouri. Camp at quiet River Valley and take in this great event that is just across the state line. Entertainment Deluxe!
---
Sept. 27th - 29th - Sixth of the Ranch Horse Show series. Jackpot sorting, roping, barrel racing, extreme trail course competition, wine tasting, dance, food concessions, and more.
---
September 28th - Extreme Trail Challenges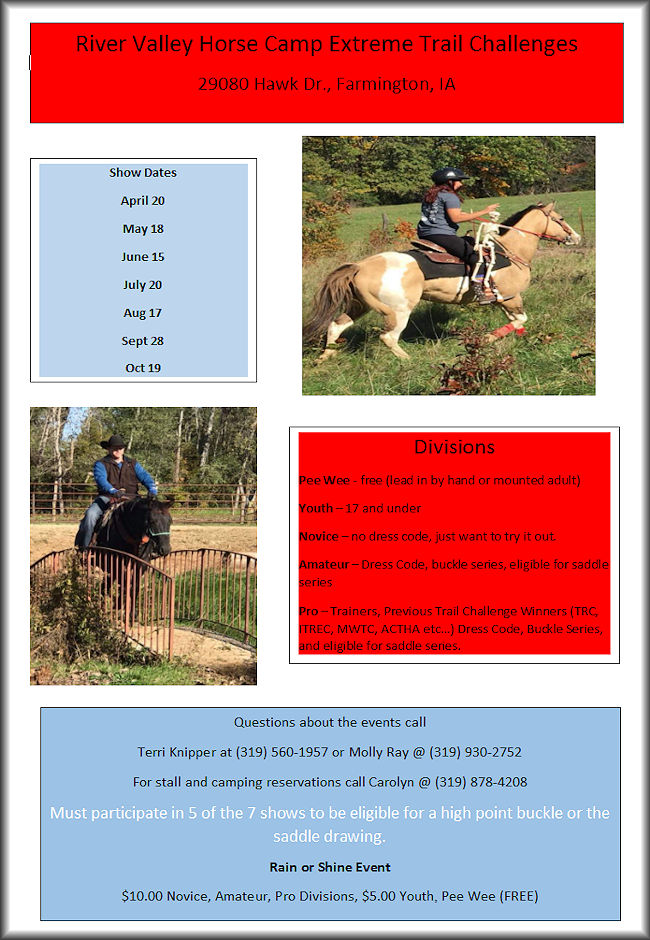 ---
Oct. 3rd - 6th - BFMFRW (Bentler Family Memorial Fall Ride Weekend). Dance, trail ride, wine tasting, food, and more. An annual event you don't want to miss!
---
Oct. 4th - 6th - Wright's Donkey Sorting Series. Friday night no charge to just play, Sat. & Sunday competitive sorting.
---
Oct. 5th - Eighth Annual Fall Horse and Tack Consignment Sale. Call Terry at 309.657.1602. For your convenience there will be a riding horse preview.
---
Oct. 10th - 12th - Three Day Fundamental Clinic with Addie McKee, the Method Ambassador for Downunder Horsemanship. Call 641.242.0988. Limited to six people.
---
Oct. 11th - 13th - Check out the Van Buren Scenic Drive Festival for a great time.

---
Oct. 11th - 13th - Cornerstone Fellowship Ministry Cowgirl Retreat - All Girls weekend. Call Greta Cummings at 319.931.1398.

---
Oct. 18th - 20th - The finals of the Ranch Horse Show series. Don't miss this final competition and awards.

---
Oct. 18th - 20th - Cowgirl Challenges.
---
Oct. 19th - Extreme Trail Challenges - Call Terri Knipper at 319.560.1957 or Molly Ray at 319.930.2752.
---
Oct. 25th - 27th - The Spooky Halloween Weekend....trail ride, dance, wine tasting, contests, and much more fun.

---
Nov. 1st - 3rd - Mounted Shooting Competition.
---
More events and clinics to be announced as dates and details become available so check back at this website often.
---
A Special "Thank You" to our Sponsors
Keosauqua Vet Clinic, Dr. Bill Helling D.V.M. - 319.293.3580
Buford Dozing & Excavating - Bonaparte, IA - 319.470.1492
L & M Ranch - Knox City, MO - 660.341.8748

JMW Enterprises - The Original Gooseneck Easy Coupler - 319.931.5727
The Tack Room - Victor and Ashley Munford - Croton, IA - 319.795.4710
Shiloh Outfitters - Mt Pleasant, IA - 319.986.5156
Rhinestones and Rawhide - 319.430.1148
---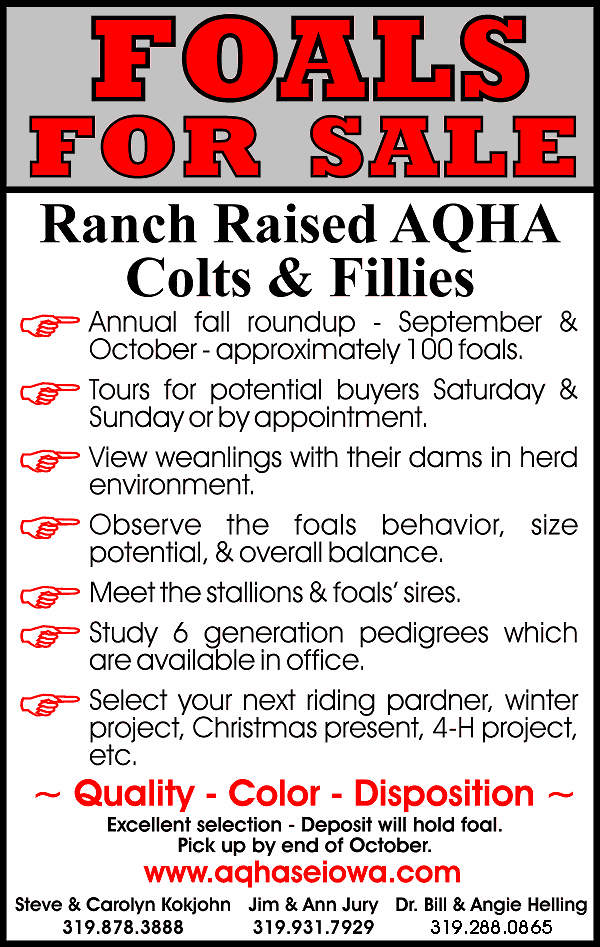 Copyright © , River Valley Lodge and Campground.